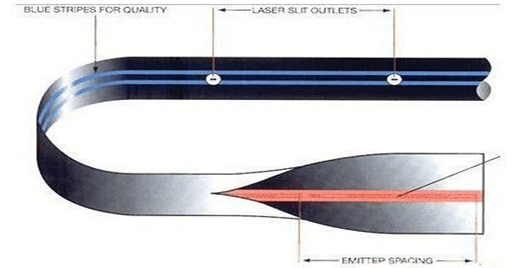 This Drip Tape / Double Line /T-tape/ Drip IrrigationTape Making Machine is a new design of drip irrigation tape making machines developed by our joint international research team. Compared to other types of drip irrigation tape equipments, this line can produce the inner strip and base tube in a single line process. The tape weight is reduced by 2-3g per meter. There is no need to invest in injection molding machines and dripper molds, significantly reducing the cost of equipment investment and labor.
Main Technical Parameters:
| | | | | |
| --- | --- | --- | --- | --- |
| Tape Diameter | Tape Wall Thickness | Production Speed | Dripper Distance | Roll Length |
| Φ12mm,Φ16mm, Φ20mm | 0.15-0.6mm | 120m/min | 100-1500mm | 500-2500m |
Features of the line:
1. The production line adopts full power servo motor control and the output is stable and reliable.
2. The production line adopts PLC, multilingual display, easy to learn and operate.
3. The electrical parts are all made of international famous brands, the maintenance is convenient.
4. The inlaid labyrinth is hot pressed by precision mold to ensure accurate flow of the drip irrigation tapes.
5. The servo motor controls the labyrinth runner to be precisely formed.
6.The automatic punching machine is controlled by servo motor and PLC to achieve precise punching.
7. According to customer needs, online or remote services can be implemented to monitor the puncturing status.
8. The double-station winder has automatic cable and tension control function, which automatically cuts off and automatically changes the volume.
Features of the Drip Tape / Double Line /T-tape/ Drip IrrigationTape:
1. Internal tape drip irrigation pipe dripper, design of the turbulent flow is long enough to produce damping effect and decay the pressure. That makes the flow uniformity much better than flat dripper and single blade labyrinth irrigation pipe. It also have obvious advantage on anti-blocking. The water outlet, using slit type has construction which is similar to one-way valve. Water out-let will shut down when the pipe produced negative pressure. That prevent the pipe from absorb field soil and resistant grass root clogging, then the pipe will not be blocked by negative pressure.
2. Extremely high irrigation uniformity, good flow index, it has much better hydraulic performance beyond comparison of other types of irrigation pipe.
3.Extrusion welding forming one time, no joint, no rough selvedge, little chance burst under compression.
4. Much filter holes on flow inlet, high clogging resistance.
5. Machinery perforate slot outlet. Avoid invasion of plant root and insect to block the dripper. The anti-block performance is better than other types since the special outlet design.
6. Good energy dissipation since the extended turbulent flow, good flow index, and have certain compensation.
7. Exclusive double blue strip make it easier to recognize on installation.
8. Drip tapes have various pipe diameter and pipe thickness and it have certain compensation, so the laying length is longer.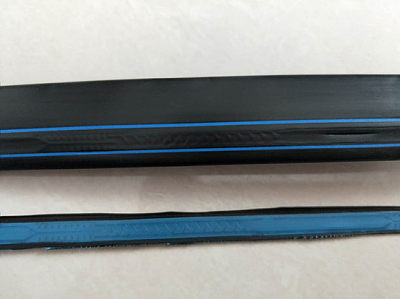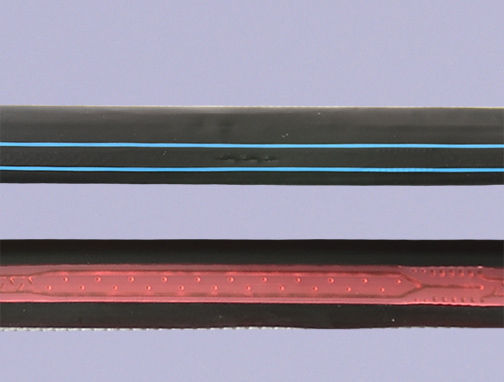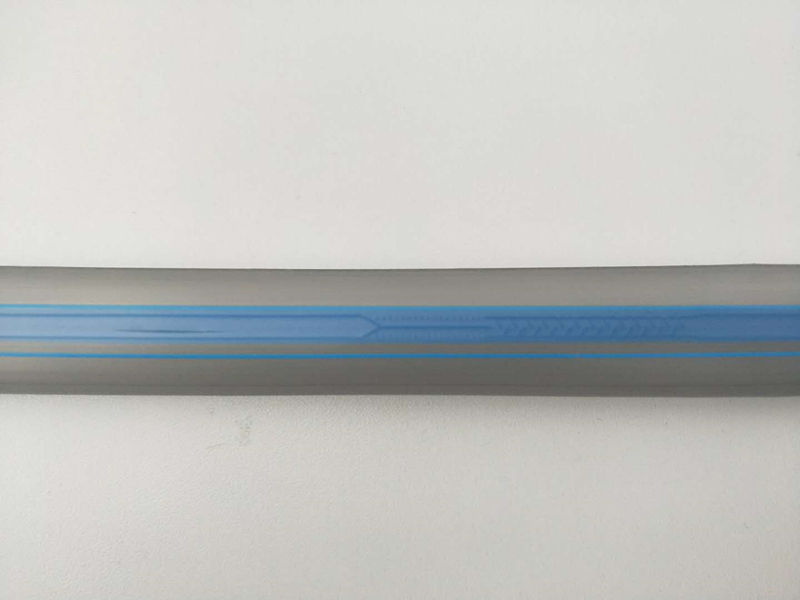 Related video: